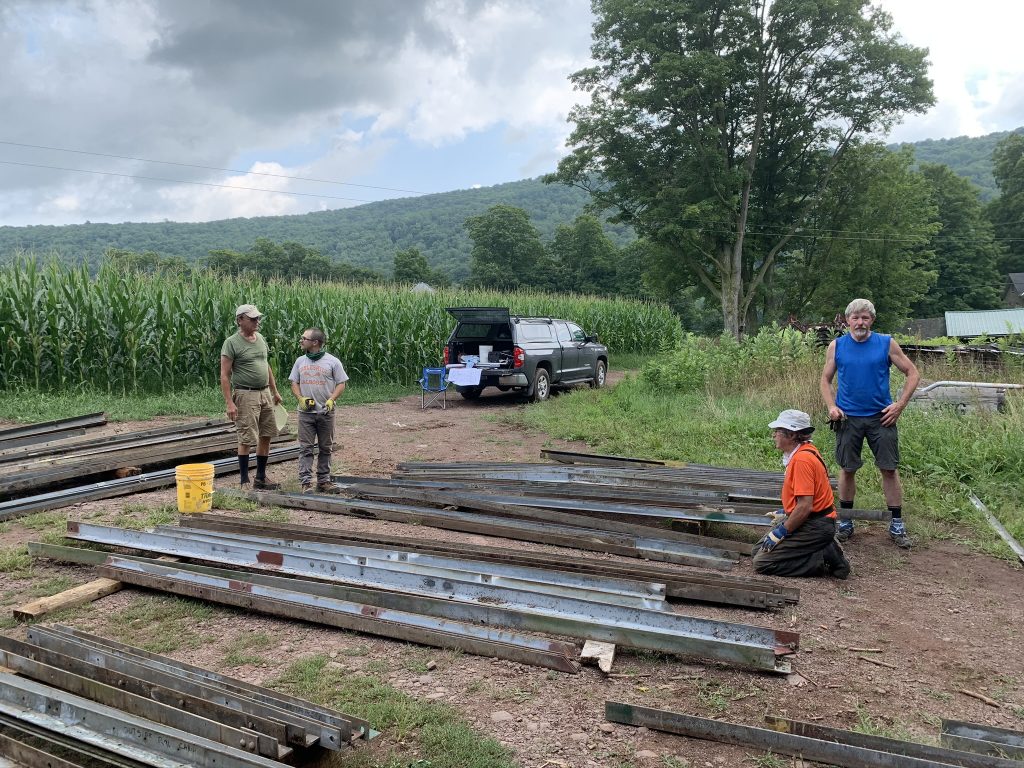 While the novel coronavirus pandemic caused the Friends of Bramley Mountain Fire Tower to scale back our fundraising efforts on the project, we have continued to take important steps to move the project forward, where practical.
–We submitted our application to become a 501(c)3 organization back in June and are awaiting approval from the IRS.
–On August 25th we performed an inventory and inspection of the fire tower components to help us to determine the total cost of reconstruction, which will then allow us to begin to apply for grants and do other fundraising when the time for that is right.
It was so wonderful getting to meet and talk to Pete Clark, the man who saved the tower in 1970, and his grandson Kyle who is taking this 5th generation family farm to new heights with the opening of their creamery.
It was a big job, moving, sorting, counting and inspecting all the hundreds of pieces of the tower but thanks to Friends of Bramley Mountain Fire Tower volunteers, Forest Fire Lookout Association volunteers, Davana LLC (fire tower restorers) and the Clark family (owners of the tower), we got it done before severe thunderstorms rolled in.

Because of the care the Clark family took in taking the tower down, moving it and storing it, the parts were all accounted for and were generally in excellent condition. A few components had pack rust on them and will have to be replaced – a result of too tight crimping during the manufacturing process that did not allow the hot dipping material to penetrate and protect the metal. More than 90% of the parts were accounted for and in excellent condition!
Thank you to Laurie, Rick, Bob, John, Wendell, Jim, Bill, Tom, Dave, Chris, Tom C and Kyle for all the hard work!