Fire Tower History
When one takes in the view of the Catskill forest from a fire tower in 2020, they see a heavily forested, lush, green and healthy landscape. That was not the case in the early 1900's. At that time, the Catskill landscape consisted of farm buildings, homes and businesses that were built of wood and heated with wood. The logging business and the tanning industry were working in the forest, harvesting trees and bark on a daily basis. Communication systems were poor, with the telephone in its infancy. Transportation was still by foot, horse, and rail. Trains passed through the forests with coal sparks flying from their stacks and from the wheels on the rails. This scene was played out throughout New York State. read more.....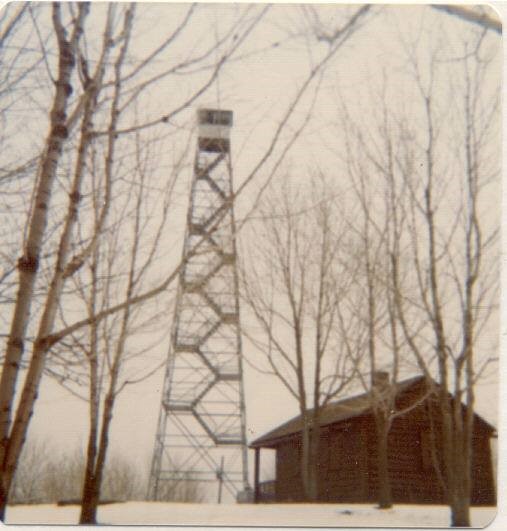 Bramley's tower was closed at the end of 1970, and in 1975 the DEC sold the tower for $50 to a local dairy farmer, Pete Clark, of Delhi. Mr. Clark and his helpers took the tower down with great care, saving all parts and even coding many as to their placement. The Clarks hoped to put the tower up on a hill on their farm, but they were never able to accomplish this.
In 1997, a group of Delhi and Bovina residents formed the Bramley Mountain Fire Tower Club, in the hope of restoring the tower to Bramley Mountain. The group raised funds with the goal of purchasing the summit parcel and right-of-way on the old access road as the first steps in their project, but they were unable to come to an agreement with the parcel's owner. In the end, the funds raised were donated instead to the restoration of the Mt. Utsayantha tower. read more ….
The Bramley Mountain Trail is one of the most popular hiking options in the western Catskills. It was designed and built by the Catskill Mountain Club, in partnership with the NYC Department of Environmental Protection.  Located on a NYCDEP parcel in the Towns of Delhi and Bovina, it totals about 4 miles in length.  The complete loop visits the 2817' summit with its site of a former fire tower, a beautiful abandoned bluestone quarry, and the impressive cliffs and caves that lie between. read more ….